Frequently Asked Questions
How do you price the cakes?:  Cake pricing will depend on a few things including size of the cake, filling, icing, amount and type of decorations and how long it will take to complete the cake.  Lionheart Cakes will work with you to come up with the best plan to keep the cake within your budget
But I can get it cheaper at a store:  You may be able to get a cheaper cake at a store.  However it will not be the same quality.  All of my cakes are from scratch and I make my own fillings and icing.  I will be able to provide you with a much wider range of flavors and decorations and give the option of much more detailed and customized cakes.  Most grocery stores receive their cakes prebaked and frozen and usually only come in three different flavors and very generic decorations.  I bake all of my cakes fresh for each order.  I do all of the planning, research and shopping.  The simplest cake (not including research, planning, designing and shopping) will still take a minimum of 4-5 hours.  Larger and more detailed cakes can take up to 16.  You simply can not get a cake with this much quality and detail for grocery store prices.
What are the sizes for the cake servings: The average serving size for party cakes are 2″ x 2″ while wedding cakes are typically 1″ x 1″.
What is the best way to cut a cake?:  Lionheart Cakes is not available for cutting the cakes.  There will be directions on how to do so.  Cutting a cake is not the same as cutting a piece of pie.  In tiered cakes there will be supports inside the cake.  There will be dowels in the lower tier(s) and possible a large dowel going through all of the cakes to hold the tiers in place.  If there is a large dowel, remove this one first.  Before cutting the cake, first dismantle it.  Separate the tiers and remember they will have boards between each tier.  After separating the tiers remove any support dowel before cutting.  Also keep in mind that fondant/gumpaste figures may have toothpicks inside them.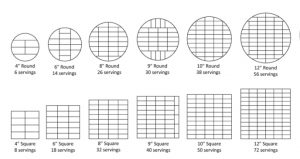 Do you offer cake delivery?:  On site deliveries will be available for larger cakes.  Wedding cakes will be set up at the venue.  Please have a very sturdy table ready for the cake.  Lionheart Cakes does not decorate the cake table.  Deliveries are $0.50 per mile with a $10 minimum charge.
Currently cake pick up's will be at a pre-agreed upon local public location such as a store parking lot (Target, WalMart, Mall) until I am able to have customer's come to my cake studio.
When picking up a cake, please be sure the vehicle has air conditioning and has been cooled down.  A hot car can lead to a melty cake.  Also be sure you have a flat area to place the cake.  Sitting them on a seat is not a good idea as seats tend to be slanted and they could easily lean or slide.  Do not have anything up against the side of the cake as it can cause push the side of the box into the cake.  Do not leave the cake sitting in the car for any period of time.
Lionheart Cakes is not responsible for cakes that have been picked up.  Once the cake is in the hands of the client it is their responsibility.
Do you offer wedding cake tastings?:  Cake tastings are available at an agreed upon location.  There is a $25 fee and will accommodate four adults.  If you choose Lionheart Cakes to make your wedding cake the $25 fee will be applied towards your order.  I will provide 3-4 cake flavors, buttercreams and 1-2 fillings.  Tastings and consultations typically take 30 minutes to one hour.
Do you match colors?:  I will do my best to match colors.  If possible please bring in a sample.  Also note that food coloring can stain clothing and skin.
Is there a deposit?: A deposit of 50% or more of the total cost of the order confirms and holds a reservation.  The deposit is refundable in full 30 or more days before the event minus a $25 transaction fee for consultation services rendered.  The remainder of payment is due no later than 14 days before the event.  Late or no payment is subject to cancellation.  Late payments may result in substitutions or modifications to the original order.  Cancellations received on or within 14 days of the event date may not be subject to refund.  Lionheart Cakes reserves the right to exercise artistic license in order to guarantee the structural, visual, and creative integrity of a dessert structure.
Can you make allergen free cakes?: Lionheart Cakes regularly uses ingredients that contain gluten and other common allergens and cannot be held liable for allergic reactions that occur due to the allergen coming in contact with the cake.
Lionheart Cakes will strive to eliminate contact with the known allergen to the best of their abilities, it is not a bakery that specializes in allergen-free desserts therefore a 100% allergen-free product cannot be guaranteed.